Honor our 25th anniversary and invest in our future! CoGenerate brings older and younger people together to solve problems, bridge divides and co-create the future.
In our first two decades, we helped change the norm from golden years to encore careers, from "graying as playing" to "second acts for the greater good." Now we're working to change the norm from generations apart to generations together, bridging divides and tackling problems that no generation can solve alone.
Your donation fuels the movement to connect older and younger generations by helping us:
→ Make cogeneration credible. We're popularizing cogeneration as a word, a strategy and a movement through research, storytelling, a prize program, and a new book.
→ Make cogeneration doable. We're making it easier for people inspired by cogeneration to move from aspiration to action with resources, best practices, and an accelerator for innovative cogenerational solutions.
→ Make cogeneration sustainable. We're building a thriving movement of older and younger leaders taking the reins for advancing this work, sponsoring an annual gathering called CoGen Live, and launching an innovation fund.
Instead of a multigenerational future defined by conflict, misunderstanding, and isolation, with your help, we'll help create the village it will take for all ages to thrive together in joy, understanding and action.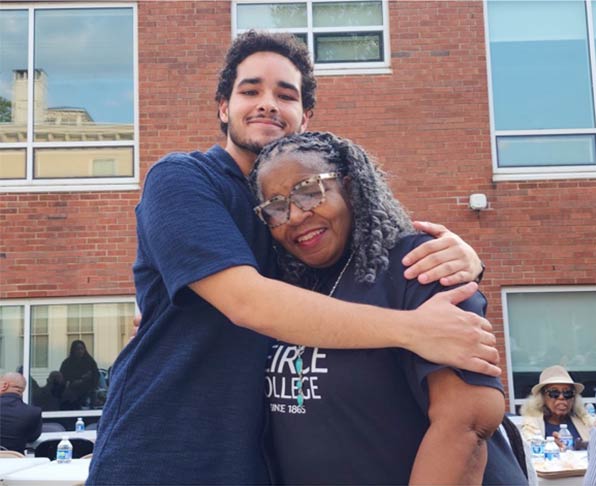 Thank you for making a donation to honor our 25th anniversary and invest in our future! 
For other ways to support our work, as an individual or a company, please see below or contact Chrissey Buckley.
GIVE STOCK
Giving stock may be a tax-wise way to make an even greater philanthropic impact.
DONATE BY CHECK
Our mailing address is: CoGenerate,
PO Box 29542, San Francisco, CA 94129
Our tax ID is 94-3274339
DONATE VIA WIRE TRANSFER
Contributing via wire transfer is a quick and convenient way to complete your donation.
GIVE FROM YOUR DAF
To make a contribution from your donor advised fund, please provide our contact information to your fund manager.
CONTRIBUTE FROM YOUR IRA
Make a tax-free Qualified Charitable Donation to CoGenerate from your IRA.
Donating appreciated stock can be simple and tax-wise.
To avoid exposure to capital gain tax, the stock must be transferred to CoGenerate. We then sell the stock from our account.
To make a stock transfer to our account at Merrill Lynch, please offer your financial institution the following details:
Merrill Lynch's DTC number is 8862
Account # Please contact Chrissey Buckley, 

[email protected]

, for the account number.
Account Name: Civic Ventures dba CoGenerate
Please note: When wiring funds to Merrill Lynch, please instruct the sending institution to include CoGenerate's Merrill Lynch 8-digit account number and full account name to avoid delays or the possibility of funds being returned.
Please contact Chrissey Buckley at [email protected] to notify us of the details of the stock transfer.  Stocks that arrive without any contact information keep us from properly properly credit and acknowledge your gift for tax purposes.
To contribute via a wire transfer or electronic transfer, route your donation to:
Bank of America, 315 Montgomery Street, San Francisco, CA 94104
Account name: Civic Ventures dba CoGenerate
Account number: Please contact Chrissey Buckley,  [email protected], for the account number.
Routing Numbers:
#121000358 for electronic transfer;
#026009593 for wire transfer;
Swift code BOFAUS3N for international wire transfer.
If you are 70½ or older, you can make a tax-free gift directly to CoGenerate (Civic Ventures dba Cogenerate) from your Individual Retirement Account (IRA) now. It's a smart way to enjoy tax savings and support cogenerational solutions.
Who is eligible? You must be 70½ or older to make a Qualified Charitable Distribution (QCD) to CoGenerate.
How much? You can give up to $100,000 per year from your  IRA.
How? Ask your IRA custodian to send a specific dollar amount directly to CoGenerate. Our tax identification number is  94-3274339.
When? Your gift must be completed on or before December 31 in order to count towards your Required Minimum Distribution (RMD) for the calendar year.
Your donation will count towards your required minimum distribution for the current year. As of January 1, 2020, individuals must start taking RMDs at age 72.  Your donation may results in lower taxable income and possible tax savings
Send a handwritten or bank check to our mailing address.
Our mailing address is:
CoGenerate
Attn:  Ninia Torrefiel
PO Box 29542, San Francisco, CA 94129
Our tax ID is 94-3274339
Questions?  Please contact Chrissey Buckley at [email protected]
Give from your Donor Advised Fund
To make a contribution from your donor advised fund, please provide your fund manager with the following information:
Civic Ventures, dba CoGenerate
PO Box 29542
San Francisco, California 94129
www.cogenerate.org
Tax ID: 94-3274339