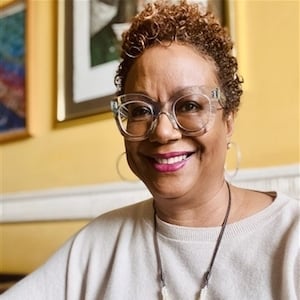 HARRIETTE COLE
Senior Fellow
Harriette Cole's mission is to help people identify, stand in and articulate their greatness. For more than 20 years she has coached entertainers, entrepreneurs, students and business professionals to present their brands effectively. In 2016, Harriette launched Dreamleapers, an educational platform designed to help people access and activate their dreams. Harriette is the nationally syndicated advice columnist of Sense & Sensitivity. She is a best-selling author and has published seven books on how to live a great life, including Jumping the Broom: The African American Wedding Planner, How to Be and 108 stitches: words we live by. Cole has worked extensively with African American media to document the history and traditions of people of African descent. Harriette began her career at Essence where she ran the lifestyle and fashion departments. She was founding editorial director of Uptown Magazine, and Creative Director and Editor-in-Chief of Ebony. Cole has interviewed more than 400 distinguished leaders for the preeminent African American national digital archive, The HistoryMakers.
For more than 20 years Cole has coached entertainers, corporate executives and students on how to tell their stories. Among her clients have been Mary J. Blige, Alicia Keys, JoJo, Andra Day, Party Next Door, Lil TJay, Nico and Vinz, YFN Lucci, Anderson.Paak, Haim and many more. Her corporate clients include Columbia Records, Warner Music, DefJam, National Urban League, Lockheed Martin, Bank of America, Digitas, and more. She collaborated with Prince on an NAACP Image Award-nominated documentary, Prince! Behind the Symbol, about his Welcome2America Tour.
Cole hosts several broadcasts, including Dreamleapers with Harriette Cole on WBAI, the oldest listener-sponsored progressive radio station in NYC, Real Conversations with AARP on AARP Black Community Facebook page, and Dreamleapers Inspiration (on podcasts everywhere).
Cole serves as treasurer of the board of trustees of the international charity The PRASAD Project. Previously she served as chair of that board for four years. She is a longtime member of the Advisory Committee on Cultural Engagement at The Metropolitan Museum of Art. She is a member of Delta Sigma Theta Sorority, Inc. and of Jack and Jill of America, Metropolitan Chapter. Harriette is a Howard University graduate. Cole proudly served as the first Encore Fellow with AARP in 2020.