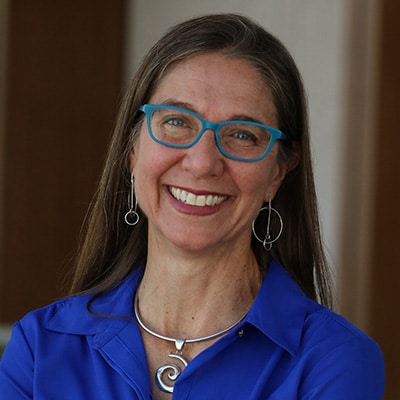 SKY TESTING
Filmmaker & Activist, "Forever Voters"
Helping high school students and The League of Women Voters join forces to boost youth voter registration and civic engagement, making youth voices heard, one vote at a time
After a 30-year teaching career, Sky Bergman is working on her third act. She is a Professor Emeritus of Photography and Video and a former chair of the Art & Design Department at California Polytechnic State University in San Luis Obispo, CA. Her new passion: creating films and projects that inspire and foster intergenerational connections.
Sky is an award-winning photographer and filmmaker. Her most recent film, "Forever Voters," shadows the League of Women Voters as they unite older adults and high school students to boost youth voter registration. The companion website, ForeverVoters.com, allows students to register to vote online and provides tools for educators to bring this cogenerational program to their classrooms.
Sky's feature documentary "Lives Well Lived" celebrates the wisdom of adults aged 75 to 100. Encompassing over 3,000 years of experience, 40 people share their secrets and insights to living a meaningful life. The film is currently airing on PBS, with over 880 air dates covering over 92% of the country. Because of the broadcast success, Sky was approached by PBS to create a special Lives Well Lived LearningMedia page including clips of the film and a special interactive lesson guide with activities to spark intergenerational connections and create deeper understanding. This free resource for K-12 educators and students reaches 20 million users a year.
With her colleague Sara Bartlett, Sky has been working with students and Senior Planet participants (part of AARP) across the country using the "Lives Well Lived" film as a catalyst to connect generations through shared stories. To date, these intergenerational projects have involved more than 500 students and older adults, combating stereotypes and ageism one story and one connection at a time.
Sky is publishing a book about her journey featuring interviews with the people in "Lives Well Lived" and stressing the importance of intergenerational connection.
Sky's fine artwork is included in permanent collections at the Los Angeles County Museum of Art, Brooklyn Museum, Seattle Art Museum, Santa Barbara Museum of Art, and the Bibliothèque Nationale de France. Her commercial work has appeared on book covers for Random House and Farrar, Straus & Giroux, Inc., and magazine spreads in Smithsonian, Arthur Frommer's Budget Travel, Reader's Digest, and Archaeology Odyssey.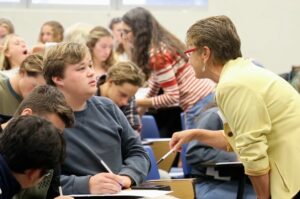 Q&A with Sky
What is Forever Voters and what inspired you to start it? 
I was having lunch with a friend who is a member of the League of Women Voters and she was telling me how she was going into high schools and helping them pre-register and register to vote. I was so inspired that I asked if I could document this intergerataional push to help get out the vote. By the end of the week, I was in the classroom and interviewing the students about why it was important for them to vote and the issues they're most excited to vote on.
What problem are you trying to solve? 
I think there's a misperception that young people don't care about the issues and that couldn't be farther from the truth. Research shows that if someone votes in three out of their first four elections, they're more likely to become a lifetime voter. My goal is to get as many students as possible registered to vote,  encourage then to become lifetime voters, and having a voice on the issues they are passionate about. 
How does Forever Voters work?
Forever Voters began as a documentary film, but now it's really about empowering other groups to use our resources and do it in their communities. Our website has information on how people can pre-register and register to vote and a presentation that anyone can download to use in high schools. 
Why choose a cogenerational approach? 
Growing up in my family, voting was your duty and it was a gift. My grandmother remembered women fighting for the right to vote and going to vote with her mom for the first time and what a powerful moment that was for her. 
That generational impact relates to what the League of Women Voters are doing, although both women and men can get involved. Having that intergenerational connection where they have an older adult encouraging them in a non-partisan way to vote, explaining what the implications are if they don't vote, really listening to what their concerns are. For many of these students, it's the first time they're receiving this kind of encouragement from an adult outside their family who is taking them seriously. It's so important and impactful. 
What's your big audacious vision? If you succeed, what change will we see? 
To make this a national campaign, where older adults are going into schools all across the country to pre-register and register young voters. To create less division between generations when it comes to political and civic engagement, by connecting generations and creating dialogue and understanding. For older generations to see how much students actually care, and to create more lifetime voters in our country. 
How can people get involved with your work?
Go to foverevervoters.com. Bring this to your community. The presentation is there for any group to use. You don't have to be connected to the League of Women Voters. 
Favorite way to wind down and relax? 
Playing guitar – mostly folk music. My dad was a folk musician and now that he's passed, I feel a real connection to him when I play his guitars.