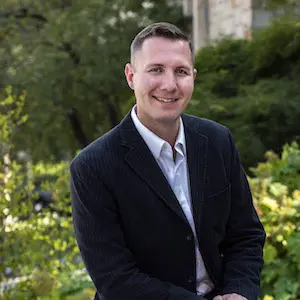 CAL J. HALVORSEN
Senior Research Fellow
Cal J. Halvorsen, PhD, MSW, is an assistant professor at the Boston College School of Social Work and an affiliate of the Center on Aging & Work at Boston College. His work examines aging societies and the need and desire for people past midlife to work past traditional retirement age, with particular emphasis on self-employment, entrepreneurship, social entrepreneurship, and encore careers. His research has been funded by the U.S. Social Security Administration, Boston College, Encore.org, the Hope Foundation, and Mon Ami. His scholarly publications can be found at Google Scholar.
Cal is a believer in the importance of public scholarship. As such, he was selected to join the inaugural class of the 2018-2019 Encore Public Voices Fellowship, receiving yearlong training and support from experienced journalists on refining his public voice, including through op-eds. As a result of this training, he published his first op-ed in Fast Company on the inherent risks of later life entrepreneurship, with later op-eds in ageism within the presidential race and racial disparities in later-life entrepreneurship that were both cross-posted in Next Avenue and Forbes. His work on older workers has also been featured in The New York Times regarding older entrepreneurs and freelancers, as well as The Washington Post, BBC, AARP, MarketWatch, and more. Further, The Wall Street Journal featured his analysis of U.S. Census Bureau data on when older people will outnumber younger people.
Prior to earning his Ph.D., Cal worked for six years at Encore.org, later serving as the organization's director of research and evaluation. During this time, Cal was invited to present at the University of Oxford in the U.K. as part of the OECD Expert Consultation on the Silver Economy, as well as the Körber Foundation and EBS Universität in Germany. He contributed to the 2008, 2011, and 2014 Encore Career Surveys of mid-life and older Americans, the 2010 report on engaging baby boomers in classrooms to help students succeed, and the 2008 Tapping Encore Talent survey of nonprofit leaders. Cal also acted as Encore.org's liaison to higher education institutions, forging partnerships and developing tools for colleges, universities, alumni associations, and associations of higher education to make it easier for baby boomers and older adults to transition into their encore careers. He also managed the organization's community college grants program and an awards program for nonprofit employers who created opportunities for Americans over the age of 50 to pursue encore careers.
As the recipient of the Excellence in Teaching Award from the Boston College School of Social Work, Cal has taught courses related to aging societies, social work practice, and research methods at both the undergraduate and graduate levels. He was elected to serve on the board of directors for the Association for Gerontology Education in Social Work and serves on the editorial board of the Journal of Gerontological Social Work. He is a graduate of both the MSW and Ph.D. programs at the Brown School at Washington University in St. Louis and earned his BA from the University of Iowa in his hometown of Iowa City.