Over the past 25 years, CoGenerate has been a hub of innovation. We have launched, refined and demonstrated the effectiveness of new programs — sometimes spinning them off to new homes with the institutional capacity and commitment to take them to scale.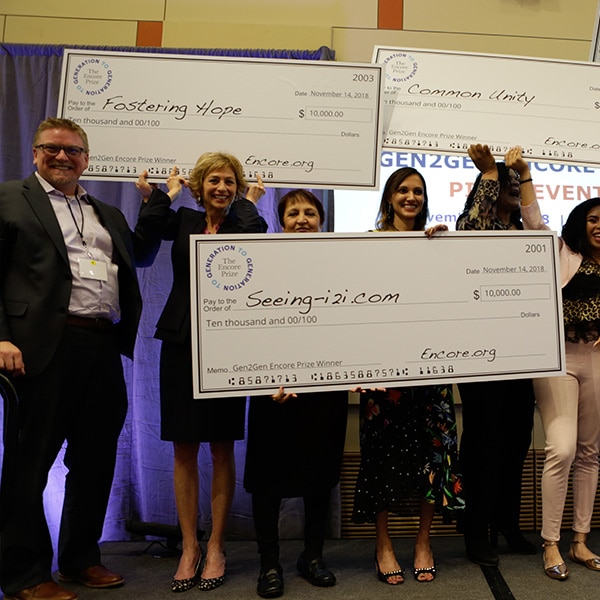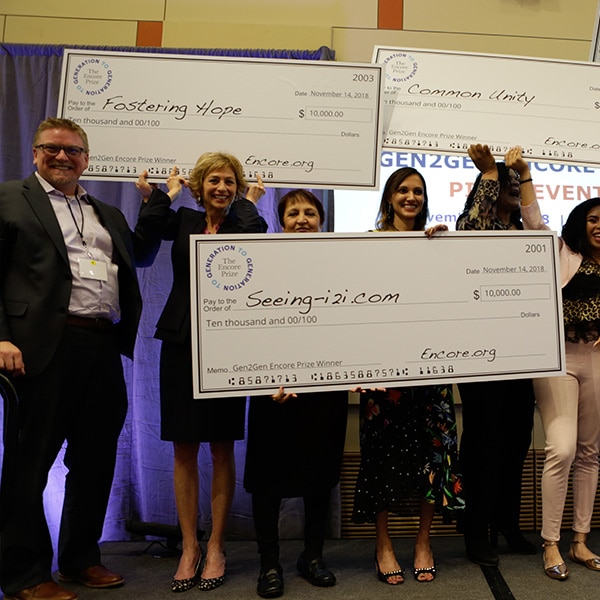 Over the past 25 years, CoGenerate has been a hub of innovation. We have launched, refined, and demonstrated the effectiveness of new programs — often spinning them off to new homes with the institutional capacity and commitment to take them to scale.
The first Baby Boomers hadn't yet turned 60 when Experience Corps was launched in 1996 as a five-site demonstration program of the National Senior Service Corps (now Senior Corps). The model, co-created by Marc Freedman, Founder and CEO of Encore.org, and Dr. Linda Fried, Dean of Columbia University's Mailman School of Public Health, was based on a 1988 concept paper by John Gardner, former Secretary of Health, Education, and Welfare and founder of Common Cause. Gardner envisioned the creation of a new institution — Experience Corps — that would mobilize the time, talent, and experience of older Americans to revitalize their communities.
Over almost two decades, we developed, refined and grew the Experience Corps model, working with local partners across the U.S. Now serving over 30,000 students in more than 20 cities across the country, Experience Corps is the largest AmeriCorps program engaging adults 50+ to serve young children. In 2011, Experience Corps became part of AARP and is now AARP Experience Corps.
The Purpose Prize was launched in 2005 to tell a new story about social innovation in the second half of life. Traditionally, the field was viewed as primarily the province of the young. The Purpose Prize helped to rectify this imbalance, demonstrating that older people comprise an undiscovered, and still largely untapped, continent of problem-solvers addressing an array of pressing societal challenges.
When we launched the program in 2005, we wondered how many social entrepreneurs over 60 would come forward with ideas.The verdict is now in. Over 10 years, we received nearly 10,000 nominations, recognized more than 500 people, including nearly 100 winners and hundreds of fellows, and invested $5 million in social innovators over 60. Started and operated with major funding from the John Templeton Foundation and the Atlantic Philanthropies, in 2016 the Purpose Prize became part of AARP, which is providing the funding and institutional support to increase its reach and impact.
Launched in 2011, the Encore Network is a coalition of leaders who champion the civic, social, and economic contributions of people 50+ by creating community, stimulating learning, and inspiring action to transform the encore stage of life.
In 2020, the program spun off into an independent organization, and continues to serve as a powerful voice in the encore movement.
In 2018, the Encore Prize provided $100,000 in cash prizes, coaching and a year of ongoing support to innovative programs, products and services to tap the talent of 50+ adults to help young people thrive.
With help from over 10,000 voters, 16 judges, 105 volunteer readers, the finalists themselves, and two funders (John Templeton Foundation and the MetLife Foundation), we announced the following:
The $50,000 Judges' Prize was awarded to Fostering Hope Foundation (Colorado Springs, CO).
The $20,000 People's Choice Prize was awarded to Read To Me International's Haku Mo'olelo program (Honolulu, HI).
The other three finalists, awarded prizes of $10,000 each, were: Common Unity (Topeka, KS), Nuns & Nones (Washington, DC) and Seeing-i2i.com (Gainesville, VA)
In 2016, Encore.org launched a five-year national campaign to mobilize older adults to stand up and show up for – and with – young people.
We partnered with hundreds of nonprofit organizations across the country that believe in the power and mutual benefits of intergenerational relationships and released Gen2Gen Cities, a guide to intergenerational strategies for public sector innovators seeking solutions to community challenges.
This three-year collaboration with The OpEd Project accelerated the ideas and impact of new and necessary thought leaders working at the intersection of aging, longevity, intergenerational connection and social justice.
Sixty-two Encore Public Voices Fellows gained access to support, community and mentoring to ensure their ideas shape the greater public conversation taking place in the media. Fellows have been featured at South by Southwest, on Good Morning America, and in publications including The New York Times, USA Today, Fast Company, The Washington Post, The Atlantic and more.
In 2019, we created the Early Childhood Innovation Fellowship to support innovators tapping the talents of adults, age 50 and older, to improve the care and education of children, age 0 to 5.
Five individuals were selected: Jennifer Thompson of Power Packs Project, Michael Batie of STEM Parents Network, Treasure Nguyen of San Jose Public Library, Max Tuchman of Caribu and Lisa Armao of Montessori Intergenerational Learning Communities. Each one received $5,000 plus coaching and support designed to boost visibility, contacts and funding. Lisa Armao won an additional $5,000 Judges' Prize awarded by the panel of 27 experts.
A special thanks to The David and Lucile Packard Foundation for funding for this project.
In 2021 with support from AmeriCorps Seniors, we created an Intergenerational Vaccine Corps to mobilize retired medical professionals — and volunteers of all ages working alongside them—to help vaccinate 47,000 underserved people in the San Francisco Bay Area.
We worked closely with an intergenerational team of volunteers and health center staff to boost on-site capacity with our partners at Federally Qualified Health Clinics. Together with partners from Americorps Seniors, the program helped deliver Covid-19 vaccines to at-risk groups in Alameda, Contra Costa, Napa, San Francisco, Solano and Santa Clara Counties.