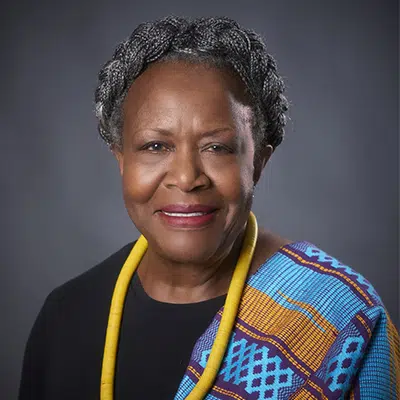 GRACE HAMPTON
Co-founder, Weaving Wisdom
Enriching relationships between generations and cultures through traditional fabric arts
"We provide an important bridge between the generations, bringing older and younger people together to talk about cloth and what it means to them today."
I am an artist, wife, great-grandmother, professor, and University administrator. I have lived many lives, that of elementary and junior high school art teacher, and Professor of Art Education at Universities in Illinois, California, Oregon, Mississippi, and The Penn State University in University Park, Pa.
My tenure at Penn State included Director of the School of Visual Arts (SoVA), Vice Provost, Head of African and African American Studies, and Senior Faculty Mentor. After 30 years of service, I officially retired in June of 2014. However, I returned to Penn State to serve as Interim Director of SoVA between January and August 2020 during the search for a permanent director.
As part of my study for a Ph.D. in Art Education, I served as an artist in residence, where I developed an arts program for a low-income housing development in Phoenix, Arizona. The complex accommodated single individuals, couples, families, and elderly singles and couples. As a result of my graduate work, I have linked my teaching directly to the range of individuals found within the community by providing opportunities for students to interact with various communities in the United States, Ghana, and Nigeria, West Africa.
After retirement, I enrolled in Penn State's Intergenerational Leadership Institute certificate training program designed to help participants learn how to develop intergenerational programs in their areas of interest. I combined my love for learning and teaching with my art and community development skills to design a group project called Weaving Wisdom. The project uses quilts and Kente and Adinkra Cloth from Ghana, West Africa, as a vehicle to bring older and younger people together in an intergenerational discussion of the use and meanings found in quilts and cloth from Ghana.