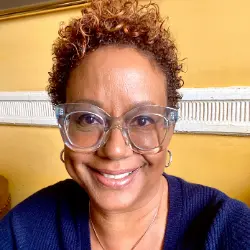 "I like to say I've had 39 lives," says Harriette Cole, 59, whose range of professional experiences include being a model, holding various leadership positions at Essence and Ebony magazines, coaching Black recording artists on public speaking — including Mary J. Blige and Alicia Keys, writing seven books, maintaining a weekly column for 17 years and hosting Dream Leapers, a coaching series to help people in transition in their lives to activate their dreams.
When her friend, Encore.org board member Lester Strong, heard that AARP was looking for someone who could help the organization increase its presence in the African American/Black community by leveraging live events and accessing Black celebrity talent, Cole immediately came to mind.
She was game for an Encore Fellowship — a six-month opportunity to work with AARP in a high-impact, paid assignment. The only challenge? A few days after Cole started her fellowship, cities across America began shutting down to slow the spread of Covid-19, and all live events were put on indefinite hold.
Cole had traveled to Washington D.C. on March 9 to meet with AARP's leadership team and go through an orientation process. "I'm so grateful I was able to meet with everyone in person," says Cole, who lives with her husband and 16-year-old daughter in New York City. "But by then we could see that things were getting bad and started talking about creating virtual opportunities to engage our audiences in a different way."
Cole — and others on the AARP Multicultural Leadership Team hired to reach out to a range of ethnic and cultural groups — had a week to find new ways to reach people and offer to help them through the crisis.
"African American communities have been hit hard by Covid-19," Cole explains, "so I helped develop a fact sheet that's now being sent all over the U.S. to various AARP offices, speaking directly to the African American/Black community in ways we hope will resonate. We also created a media briefing for Black media outlets, and I worked closely with the AARP team and advertising agency Burrell Communications on preparing for that."
Edna Kane-Williams, AARP's Senior Vice President of Multicultural Leadership, is more than pleased with the work. "Harriette has quickly become an entrenched, valuable member of our team," Kane-Williams says. "Her insights and knowledge about public relations and communications strategy have really helped us raise the bar on the reach and impact of our work. We're truly honored to have someone of her caliber working with us. What a gift!"
Cole hasn't stopped thinking about ways to engage Black celebrity talent. There are online events, to be sure. "BET recently had a musical fundraiser, and AARP quickly agreed to sponsor it," she says. There's also a new AARP Black Community Facebook Live interview series in the works that Cole will produce and host.
"My plan is to talk to a broad range of people," she says, "from motivational speakers who will give inspiration for how we can stay positive at a time when it can be a challenge, to more celebrity-type people who have built interesting careers."
Cole says her AARP colleagues are some of the most respectful professionals she's ever met. "These groups are often marginalized, and the way everyone is treated in this department is the opposite of that," she says. "Everyone is highly regarded and acknowledged for their contributions. They welcome my ideas and tell me how grateful they are that I'm there, and that I bring fresh ideas and new ways of looking at information. It feels really good."