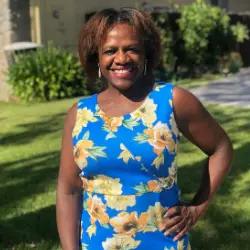 MARLENE SOMERVILLE
Hack the Hood
Decades ago, Marlene Somerville moved from Manchester, England to Silicon Valley to pursue dreams of success in the tech industry. And she found it, working 23 years in various IT roles at Intel.
But when Intel offered Marlene an early retirement package, she was ready for a change and took it.
That's when she learned about Encore Fellowships, a program that matches skilled, seasoned professionals with social sector organizations in high-impact, paid engagements lasting as long as a year.
"I was drawn to Hack the Hood, an Oakland-based nonprofit that serves under-resourced youth of color, ages 16-25, who are interested in pursuing tech-related careers," she says. "And it was a win-win, because it aligned with my professional experience."
Hack the Hood offers intensive bootcamps and workshops, prioritizing students who have received free or reduced lunch in school, or have household incomes under the federal poverty guidelines. Most of the youth who participate don't have access to a computer or reliable internet connection at home. Students learn tech and coding skills, are mentored by tech professionals, build confidence, and create a pathway toward success.
Marlene's full-time, six-month fellowship was focused on helping Hack the Hood better organize its data and expand its services to more young people. "After evaluating their entire business process and identifying where we could increase efficiencies," she says, "it became obvious that we had to move their paper enrollment process online."
Taking the organization digital in advance of the pandemic ended up being a blessing, allowing students to enroll using an internet-enabled mobile phone. And, for the first time, the group is able to launch a virtual summer workshop.
"This summer, 38 young people will get to practice the tech skills they are learning in the virtual workshop by serving as remote web developers and consultants for real-world, local, small businesses and community organizations," Marlene explains. "They will do this work in partnership with local tech company mentors who advise on development and design, local business networks that provide clients, and city governments that help with youth stipends and local awareness."
Hack the Hood raised additional funds that will cover stipends for the young people participating in the summer program, increasing access to those who otherwise would have had to focus on summer jobs that pay.
"We need to improve diversity within technology companies, particularly those working in IT," says Marlene. "Hack the Hood's programs and partnerships help."
While her Encore Fellowship recently ended, the experience made a lasting impact. "When you're working in high tech at a company like Intel, you're in constant motion." she reflects. "Doing this Encore Fellowship with Hack the Hood has given me the opportunity to transition and to look at my community and give back. It was really rewarding."